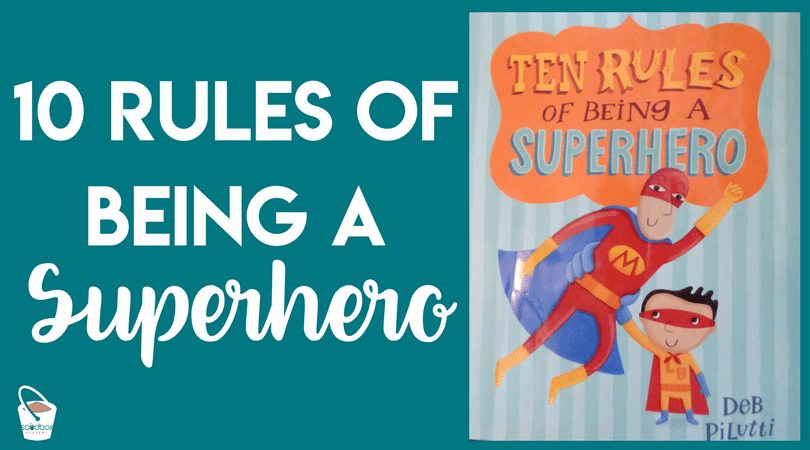 So I have to admit, this past month I have forgotten to take my own advice and I have not been reading books to Rea multiple times. Instead, I have been in such a hurry to read all the books we borrowed from the library, so we have only been reading each book once.
Why am I telling you this? Because I noticed that Rea has been asking a lot more questions about each book. She is stopping me more and saying, "Why is this happening?" While that is certainly normal in part, I also feel like she is asking because she doesn't have as many opportunities to interact with each book and answer her own questions as she reads each time.
I have begun to be more conscious about keeping fewer books in our rotation and keeping them for longer so we can really dive into each one.
As we read Ten Rules of Being a Superhero for the 3rd time today, here are the observations and conclusion we drew.
Lil' Explorers Focus Skills
Reading
Point to and comment on the pictures independently
Lil' Creators Focus Skills
Reading
Make conclusions and observations about the text based on the pictures
Observe & Conclude
This time when we read Ten Rules of Being a Superhero, we are going to focus on making observations and drawing conclusions. This means that you are modeling and encouraging your Lil' to look at the pictures, point things out, and come up with reasons why something happened. Here are some of the observations and conclusions we draw while reading this book.
Look! He is flying to save the boy from the dinosaur!
Why are they bad? (Rea asked this question when they introduced the dinosaur as a villain)
It's a bee!
What is the bird doing?
She put him in the nest!
Can you point to Captain Magma? Can you point to Lava Boy?
Teacher Tip
Don't be afraid to use the pictures as a tool. Often as parents, we think that using pictures to help with comprehension is a crutch, but it is not. It is a valuable tool for understanding a text, especially in picture books where the words are often vague because the author allows the pictures to do the talking.
Lesson Bundles
Want more lessons like this? Check out my lesson bundles!
Preschool Activity Guide
Grab a copy of your preschool activity guide and be the first to know when new lessons are shared.